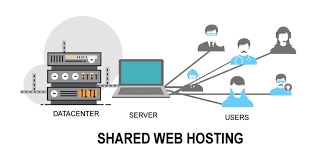 What is Shared Hosting?
Shared hosting allows multiple websites to utilize a single server. Usually, you'll have no idea who or what websites you're sharing the resources of a server with. Each customer will usually have a limit on the total amount of server resources they can use, but this will be defined by your hosting package. Shared hosting is easily the cheapest and most economical option for your needs. However, the cheap price comes with limitations, which we'll get to below. Since most hosting companies will offer the same amount of space and storage it's important to choose a company you can trust.
Alternatives To Shared Hosting
There aren't any specific alternatives to a shared hosting plan. There are upgrades, but no alternatives that are as cheap as shared hosting. The alternatives to shared hosting include WordPress dedicated hosting, running a VPS server, and other semi-dedicated hosting options. All of these will end up costing more than a basic shared hosting plan, but they will provide you with greater levels of customization and performance. Shared hosting is a great choice for beginning website users whose sites don't receive a lot of traffic. Remember, you can always upgrade or change hosting environments with time.